HIRONDELLE SOAP Happiness
Voices of HIRONDELLE SOAP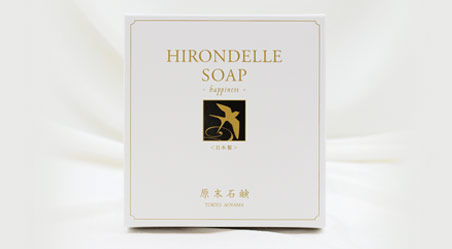 HIRONDELLE SOAP Happiness
Review
I was able to gently cleanse my face with a good dense foam. Soap's aroma was my favorite too. I didn't feel any tightness after washing my face and it was very moisturized.
I'm excited to see the results after using this for a while.
Miki Miki
40s Woman
★★★★★
I was surprised with how well it can easily foam compared to other ones that I've been using.
You can easily build up this smooth whipping cream like foam and the aroma makes me relax.
Its smells so good and makes you relaxed!! You can foam easily and I feel like my skin is dewier and more moisturized!! Anyways, the more I used, I could tell the different comfortableness from the store-bought soaps!! Amazing.
I love this so much. It's easy to cleanse with the creamy foam and especially, many people told me my face feels smaller since I used the soap. I think… my face got lifted because my pores got tightened. It's amazing to see this much difference with just a soap!
It feels like you are washing with an essence! I like the smell too. You can feel how it goes through your skin with the bouncy foam. Can't wait to see the difference. I feel safe using not just the dry winter season, but also the strong summer season when you are exposed to UV rays.。
My skin reacted well. But right after I used, I felt my skin tightening up. I want to continue using it more.
Using for 2 weeks, the dryness that I was concerning went away. I could also tell that my skin became smooth and dewy. I was suffering with skin problems, but now, I'm having the best condition.
I didn't feel any tightness right after cleansing and I feel like my skin's tone got brighter and my pores closed.
I started taking care of my skin after 40 years. My skin is exposed to UV rays with golfing and hiking, so I'm being careful with the aging. This soap is very gentle to the skin and I always want to cleanse again because it keeps the moisture so well after you wash your face haha. The pores on my side nose started to close and I was surprised that you can take care of your skin not just with the lotion or cream, but with the face washing process.
The foaming and the moist feeling is so nice. I could relax with the smell too. My skin gets so dry that it starts to tingle if I do not apply lotion as soon as I take shower. When I use this soap, I don't have that feeling anymore! And, before using this soap, I thought my makeup remover was causing the problem so I tried multiple times, and never thought it was my face wash that was the cause! It is very smooth and feels very nice.
I could foam easily and when you put the foam on your face, it smells so good I felt relaxed. And I could tell that I doesn't tighten my skin after I wash and feels very moisturized.
It doesn't tighten up even I do double cleansing. I've never felt my skin this moisturized in any other soaps. I feel like my skin is clear after cleansing. I am excited to see my dark spots and dullness going away.
I felt the smooth foam going into my pores. Didn't feel any tightness after cleansing and it was smooth! I try to be careful selecting the right one since my skin is sensitive and gets dry during winter, this soap feels like my face got brighter.
I like how it doesn't tighten my skin right after cleansing and feels like it brightened my skin. I like the smell too.
Yamashita Azu
20s Woman
★★★★★
The other face foam, liquid and the gel type that I've used before did not have the good foam density. When I put these on my wet face, the foam gradually disappears and was washing my face like this every day. I was surprised how this soap's density maintained even on my wet face. Also I was surprised with how I felt after too. The dirt in my pores that I felt usually with my fingers were gone. Refreshing, smooth and moisturized. This moisturizes so well too. The bar soaps that I've used in the past usually gave me a refreshing feeling but never had this much moisture left on my skin. The refreshing type bar soap makes my skin tighten really quick and largen my pores, but this soap doesn't do that at all. My makeup sits well next morning too, amazing.
Yamashita Miki
20s Woman
★★★★★
I was surprised with how fine and dense the foam is!!! Normally I use bar soap to cleanse my face but, those foaming is not good enough that it disappears so quick, yet this soap's foam still had the fluffiness while cleansing my face and it was amazing! Before, when I touch my face I felt the bumps from my pores (especially around my nose), but I was amazed with how my pores were tightened and so smooth. Since I use a liquid foundation, my makeup stays really tight on my pores so this made me so happy. I will use this continuously.
When I first used it, I knew my face brightened up. This made me excited to wash my face! I have a dry skin but, I didn't feel any dryness after washing and felt moisturized! I usually have issues before my cycle but after changing to this soap, it calmed very well! This is something that I want to continue using it.
My skin feels smooth after cleansing and it feels good. My thin lines started to disappear so I'm excited for the anti-aging.
My tightness disappeared.
I have an oily skin but, when I used this soap, it cleared my dirt and felt really refreshing.
It smells like honey with a little bit of medicinal plants. I'm not a big fan of this smell but my skin loved it! You can foam easily with the foaming net. The foam feels nice when putting on your skin and my skin didn't feel any tightness too. I only used for several days, but I feel like my skin got softer.
Didn't feel any tightness and felt really good. I think it brightened my skin too.
You can really cleanse out your dirt but don't feel any tightness after that. I felt it goes well with people who have weak skin too.
I don't feel any tightness while washing my face and my lotion nicely goes into my skin now. I love this so much!
It is a unique smell but very relaxing. The soap is different from the other ones that I've use, it didn't give me any tightness that it made me want to use this for a very long time.
oda1991rakuithi
20s Woman
★★★★★
I was introduced by my friend and even I have dry skin, didn't feel any tightness right after cleansing and my pores vanished. This will be my holy grail and, in the end of 2019,this became my best skincare product in 2019…I will keep using this soap in 2020 and continue cleansing my face with it. It is so good.
Ooishi Kuranosuke
40s Woman
★★★★
My skin is smooth after cleansing it! I haven't put my lotion yet but, my skin still remains moisturized, amazing.
The foaming was just right and it was very refreshing after cleansing. The tightness that I usually feel wasn't that much so this is good too. The pores on my nose wasn't an issue anymore too. I felt the smell was really unique.
The moment I opened it, the aroma hit me. This amazing scent hugged me while washing my face. My face doesn't get tightened, and it's amazing!
I feel that my dark pores on my nose got smaller! I want to keep using it.
First of all , I was relaxed with the smell. The foam was fluffy and soft, it was very gentle on my skin. I wanted to just leave it on. There are soaps that makes your skin brighter but, this can make your skin dewier and gives you a good tone.
No matter how good the facial soap is, I usually had the tightness after washing my face, but this does not give you that feeling at all. When you use the foaming net, it gives you a good density and a nice fluff to it. It feels like the smoothness from the foam directly goes into your skin and makes your skin smooth. Even I get strong UV rays from my work, with this soap, my skin calmed down and love how I can enjoy my life. This soap goes well with a guy like me too.
It foamed very well and loved how it cleansed my skin. Next morning, my makeup stayed on well and the dry skin I had were moisturized.
I didn't feel any tightness after washing my face. I feel like my skin got brighter.
It was so easy to use! This is the best soap I used so far!
There's no tightness and more you make your foam, it becomes smooth!
I am a professional golfer so I get exposed to sunlight everyday more than other people but, after using this soap, my skin became brighter and my pores disappeared! The foam is very rich and don't feel any tightness after washing my face too! This is something I want to use in the summer time too!
I have never used a soap that makes my skin smooth after cleansing. I was amazed with how well the Gemmatsu Sekken gives smooth and soft skin. I have no concern with my dry skin so I want to keep using this more.
This soap is really amazing. It has the fluffiness just like the whipping cream but it's not heavy and feels so good when putting on my face. The moisture and the smell is fantastic, my skin condition is getting better every day, it's so fun to cleanse my face now.
Every winter I was suffering with the dryness. When I first used this soap, the foam was so gentle, I didn't need to rub my skin. It smelled so nice too. There wasn't any tightness after washing and my skin became softer! Thank you!
Moisturizing, the foaming and the feeling of this soap was hands down the best one ever. I was easily able to make smooth fluffy foam! I have dry skin but, even in winter, my skin didn't get tightened and the smooth creamy feeling you get when you are washing makes you enjoy your face wash. I feel relaxed while cleansing♪My pores got smaller and when I kept using it, my skin became brighter. Lately, I have been giving HIRONDELLE SOAP to my friends for their birthdays or just a surprise gift and they all get excited , so I really recommend this soap♪
Usually the soap that I have used leave me with some tightness to my skin, but this soap's foam is very smooth and even after cleansing you don't feel that tightness, it's amazing.
I was surprised with the smoothness that I've never felt before! During winter, my skin gets powdery due to the dryness but I did not have that this winter!
More I used, more effect I felt and I really love it! I can never use a different soap again.
The foaming was great and really cleansed off my skin, but left me with a really smooth and not dry skin. There were a lot of ingredients that supported moisturizing so it was perfect for a dry skin like me!